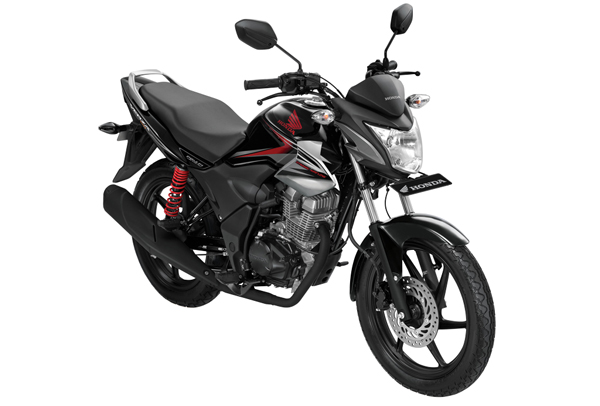 Verza Honda sport bike Honda 150 is a bargain price, the price of Honda Verza 150 predicted around Rp 16 million. Disenyalir use a machine with the same specs with Mega Pro 150 cc SOHC but still had fuel injection.
Honda Verza 150 is designed with an optimum level of comfort. With the condition of the relatively light weight of the vehicle and a wide steering angle (90 °) allows him to maneuver agile on every road condition.
This model also offers an upright driving position and ergonomic seating position behind the ramps resulting in optimum comfort in every travel situation, both for the rider and pillion. It also provides an easy way to bring grocery goods.
At the rear, Honda Verza 150 adopts dual suspension system strong and tough (heavy duty twin suspension) to support optimal load as everyday vehicles, whether private, with friends or for business purposes in a variety of road conditions.
Honda Verza available in four colors, namely red sporty, masculine black, silver and tough marine blue. For the price, for the type of wheel spokes priced $ 16.05 million on the road in Jakarta and Rp 16.9 million for the type cast wheel (OTR Jakarta).
Spesifikasi
Dimensi
Panjang x Lebar x Tinggi : 2.056 x 742 x 1.054 mm
Jarak Sumbu Roda : 1.318 mm
Jarak Terendah ke Tanah : 156 mm
Ketinggian Tempat Duduk : 773 mm
Berat Kosong : 129 kg
Radius Putar Minimum : 2.000 mm
Kapasitas Tangki Bahan Bakar : 12,2 Liter
Kelistrikan
Tipe Pengapian : Full Transistorized
Tipe Baterai/Aki : 12V – 3,5Ah
Tipe Busi : NGK CPR9EA-9
Mesin
Tipe Mesin : 4 Langkah SOHC Silinder Tunggal
Volume Langkah : 149,2 cm³
Sistem Pendinginan : Berpendingin Udara
Sistem Suplai Bahan Bakar : Injeksi (PGM-FI/Programmed Fuel Injection)
Diameter x Langkah : 57,3 x 57,8 mm
Tipe Transmisi : 5 Kecepatan
Pola Pengoperan Gigi : 1 – N – 2 – 3 – 4 – 5
Perbandingan Kompresi : 9,5 : 1
Daya Maksimum : 9,72 kW (13,2 PS) / 8.500 rpm
Torsi Maksimum : 12,7 Nm (1,29 kgf.m) / 6.000 rpm
Tipe Starter : Starter Kaki dan Starter Elektrik
Tipe Kopling : Manual, Multiplate Wet Clutch
Kapasitas Minyak Pelumas : 1,0 Liter pada Penggantian Periodik
Rangka
Tipe Rangka : Diamond Steel
Ukuran Ban Depan : 80/100 – 17 M/C 46 P (CW : Tubeless)
Ukuran Ban Belakang : 100/90 – 17 M/C 55P (CW : Tubeless)
Tipe Rem Depan : Cakram Hidrolik dengan Piston Ganda
Tipe Rem Belakang : Tromol
Tipe Suspensi Depan : Teleskopik
Tipe Suspensi Belakang : Suspensi Ganda