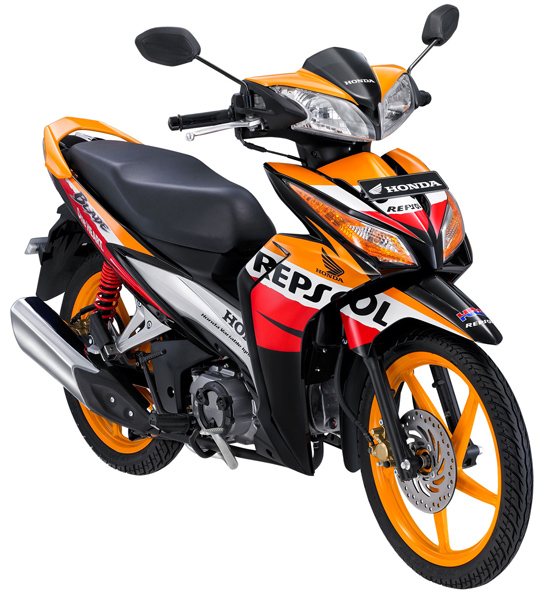 New Honda Blade has been well received as an icon of the Honda racing by the young or young at heart consumers who appear confident and enjoys racing activities. This model is known as a high-performance motors that have the aura of racing like Repsol Honda team that competed in MotoGP. In addition, the new model has a choice of colors inspired tricolor Honda racing DNA.
New Honda Blade R is evident change in color. Honda gave two new color options, namely Sporty RWB and Winning Red. For the engine seemed to be no change. Looks like the new Honda engine Blade maintained. Machine EFT (Efficient and Low-Fricyion Technologi) Capacity 110 cc SOHC motor into the main kitchen. This machine has the efficiency and minimal vibration. HVIC technology (Honda Variable Ignition Control) embedded in the motor can also arrange the supply of air and fuel mixture into the combustion chamber. Motor performance is maintained.
Blade has dual headlights are equipped multireflektor, providing a wider range of lights and light, combined with a sporty visor. This look is enhanced with a modern design accented futuristic turn signal, the inner lens embedded in the dusk light, and side wing 3-dimensional models with air holes (air intake) the aerodynamic.
Blade is equipped with engine EFT (Efficient & Low-Friction Technology) with a capacity of 110 cc, SOHC, 4-stroke high performance yet efficient. This machine is enhanced by using technology HVIC (Honda Variable Ignition Control Technology).
New Honda Blade is targeted to sell 20,000 units / month. Since it was first introduced in August of last year to October this year, the New Honda Blade has sold 311,047 units.
In the period from January to November this year, the New Honda Blade has sold 164,238 units. This contribution reinforce Honda's position as King of Duck with a market share of about 57 percent.
Check New Honda Blade Repsol
specifications:
Length X width X height: 1898 x 709 x 1080 mm
Axis Wheels distance: 1227 mm
Lowest distance to the ground: 135 mm
Empty weight: 104 kg
Type of order: The backbone
Type front suspension: Telescopic
Type of rear suspension: swing arm with double sokbreker
Front tire size: 70 / 90-17 M / C 38P
Rear tire size: 80 / 90-17 M / C 44P
Front brake: hydraulic disc with single piston
Rear brake: hydraulic disc with single piston
Fuel tank capacity: 3.7 liters
Engine type: 4 stroke, SOHC
Bore x stroke: 50 x 55.6 mm
Volume measures: 109.1 cc
Compression Ratio: 9.0: 1
Maximum Power: 8.4 hp (6.18 kW) / 7500 rpm
Maximum Torque: 0.83 kgf.m (8.15 Nm) / 5500 rpm
Lubricant Oil Capacity Engine: 0.8 liter in the periodic replacement
Clutch Auto: Double, automatic, centrifugal, wet type
Dental Transmsi: 4 speed rotary / fixed mesh
Pattern transfer Teeth: N - 1 - 2 - 3 - 4 - N
Starter: Electric starter and kick starter
Aki: MF 12 V - 3.0 Ah
Busi: ND U20EPR9, NGK CPR6EA-9
Ignition system: DC - CDI, Battery